THE PARKS AND RECREATION ONLINE REGISTRATION SYSTEM HAS MOVED

ACTIVITIES.LASVEGASNEVADA.GOV

Registering for Safekey/Ignite? Click on the AFTERSCHOOL PROGRAMS SAFEKEY/IGNITE tile below to create an account at our new website!




Parents/Guardians, please be advised: We do not provide year-end tax statements.
Receipts can be reprinted by signing in to your online account. Our tax ID number is 88-6000198.
QUICK LINKS
BROCHURE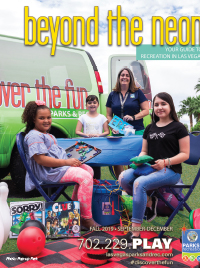 MEMBER LOGIN
Member Info
Now that you are logged into our registration system, please use either the Hot Buttons below or Menus at the top of the screen to navigate the website. When ready, you will be brought to the checkout screen where you can finish your transaction by paying with a credit card. We accept Visa, MasterCard and Discover.
NOTE: Some versions of the Safari browser are not compatible with this website. Use Google Chrome browser as an alternative.
Site best viewed with 1024 by 768 resolution. Recommended browsers are IE 8, FireFox 3, Safari 4, Google Chrome.